Plumbing Services
Calumet City, IL
Residential and Commercial: Plumbing installation for both new construction and existing work.
Draining Cleaning: Video inspections, pressure jetting service and drain cleaning. We have the equipment and experienced plumbers that will help solve the sewer and drain problems for Cal City home and business owners fast. View full information about our drain cleaning services here.
Leak Repair and Freeze-ups: If you have a water leak in your metro Chicago home or business, call AGBO. No matter how big or small, we're here to help you repair any leak and ensure that your home stays moisture free and healthy.
Re-piping Service: Older Calumet City are buildings may contain plumbing systems that are poorly sized or perhaps utilized materials that are now considered unsafe. And as homes and businesses age, their plumbing systems can begin to corrode resulting in poor water pressure or water leaks. Rather than continuing to suffer from these issues you should consider replacing some or all of your building's water piping system. At AGBO, we provide full repiping services to update older polybutylene, lead, or galvanized water piping systems.
Sump Pumps and Sewage Ejector Pumps: Whether you need a new sump pump or ejector pump system or have an emergency repair to these systems AGBO can provide full sewer services to help.
Bathrooms & Kitchens: If you are looking for a luxurious new installation, or need help with your existing kitchen or bath we can help. For your bathroom, we offer toilet repair and replacement, showers and tubs, sinks, and laundry room hookups. For your kitchen, we offer sinks, ice-maker and dishwasher installations, garbage disposals and faucets. For more information about our beautiful bath and kitchen fixtures click here.
Water Heater Service: If you need a new water heater for your home or business, we can help. We offer State electric tanks, gas-fired tank water heaters, advanced gas tankless, and heat pump water heaters. We also offer complete 24 /7 water heater repair services. Click here for more information.
Gas Piping: AGBO provides plumbing services to provide natural gas piping for the Calumet City area. Gas piping needs to be done right. We will ensure that your new gas piping is properly sized, and fully leak tested to ensure that your gas furnace, ranger, dryer, or hearth product is both safe and reliable.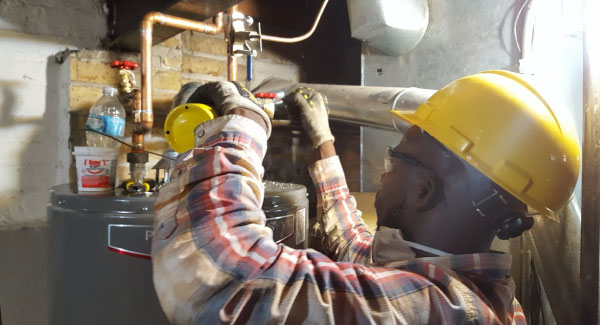 AGBO Heating, Cooling & Plumbing
Home Town Family Owned: AGBO Heating, Cooling & Plumbing was founded and is owned by Chicago area native Reagan Agbo.We have almost a decade of service to Cooke County homeowners and businesses.
Licensed and Insured: AGBO is licensed and insured to do heating and air conditioning work throughout Cooke County.
Factory Trained We have completed manufacturer training and are dealers for State, Armstrong, Mitsubishi, and Weil McLain.